AquaBiota participates in two research projects evaluating the potential for the use of airborne LiDAR for large-scale mapping and monitoring of the shoreline and shallow seabed areas. EMMA was a four-years project (2009-2012) funded by Swedish EPA and ULTRA was an EU Interreg IV project.
LiDAR measurements provide a detailed bathymetry, but further analyses of the laser waveform have the potential to give information also on seabed properties such as substratum and presence of vegetation. Within the projects, we also combined LiDAR data with aerial photographs to evaluate if this improves the classification of bottom types. The projects involved LiDAR measurements with the Hawk Eye II system, measurement of optical properties of the water column, and field inventories of seabed substratum and vegetation by Scuba diving and UV-video.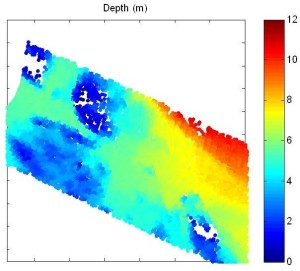 Depth information from Lidarmeasurement
Report (in Swedish): Användarfall för lidarmätningar av grunda bottnar och strandmiljöer längs Sveriges kuster.
Scientific publications:
Tulldahl H.M. and Wikström S.A. 2012: Classification of aquatic macrovegetation and substrates with airborne lidar. Remote Sensing of Environment, 121:347-357.10.1016/j.rse.2012.02.004
Tulldahl H.M, Philipson P., Kautsky H. & Wikström S.A. 2013: Sea floor classification with satellite data and airborne lidar bathymetry.