The four-year EU LIFE+ project Baltic Sea Information on the Acoustic Soundscape (BIAS) has now come to an end. The aim of the project was to demonstrate how to implement the Marine Strategy Framework Directive with regard to continuous low frequency sound in the Baltic Sea.
The BIAS implementation plan describes the regional monitoring programme applied during the project. Based on the experiences made in BIAS the plan also outlines a plausible strategy for a joint future monitoring and assessment for underwater ambient noise in the Baltic Sea region.
In 2014, one year of sound measurements were performed by six nations at 36 locations with the purpose of establishing the baseline state of ambient noise levels in the Baltic Sea. The measured sound data were used to model the soundscape for the entire project area, based on information on ship traffic and the prevailing environmental conditions (winds, hydrography, bathymetry and seabed sediments). To facilitate an efficient handling of the measured and modelled data an online soundscape planning tool was created. Two useful statistical measures were identified for characterizing the soundscape which were incorporated into the tool. BIAS has been in close dialogue with the national Baltic Sea authorities and HELCOM throughout all phases of the project.
In BIAS, AquaBiota compiled the environmental data for the soundscape modelling, developed the soundscape planning tool and co-authored the implementation plan. AquaBiota also assisted the project coordinator FOI in the overall project administration. The legacy of BIAS is a number of standards, methods and tools which will aid the future management of underwater noise in the Baltic Sea. The project documents are available for download from the BIAS website.
Link to the implementation plan: Nikolopoulos, A., Sigray, P., Andersson, M., Carlström, J. & Lalander, E. 2016: BIAS Implementation Plan – Monitoring and assessment guidance for continuous low frequency sound in the Baltic Sea. BIAS LIFE11 ENV/SE/841.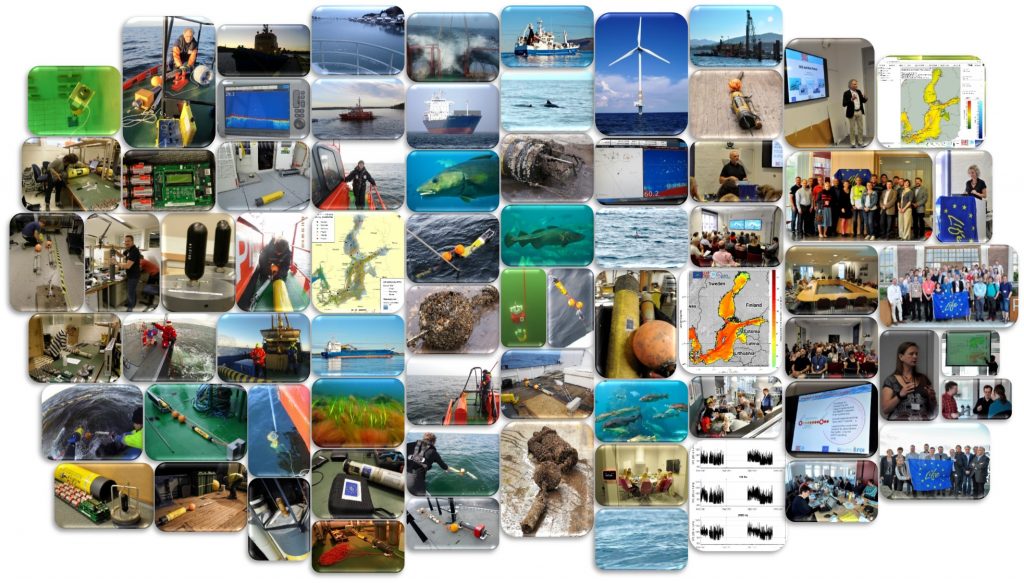 Mosaic of photos from the BIAS lifetime (photos from the collective BIAS photo folder)