AquaBiota reviewed environmental impact assessments (EIA) of the first drafts of marine spatial plans published by the Swedish Agency for Marine and Water Management in December 2016. The review was made with focus on methodology and reasonableness in assessments and results.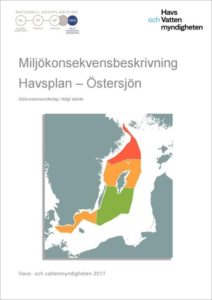 The Swedish Agency for Marine and Water Management (SwAM) published the first draft of marine spatial plans for the Gulf of Bothnia, the Baltic Proper and the North Sea on December 1, 2016. WSP in Gothenburg had subsequently produced environmental impact assessments (EIA) for each plan respectively. AquaBiota was commissioned by SwAM to review these EIA's with focus on the Baltic Proper.
The review focused mainly on methodology and reasonability in assessments and results rather than on details. In this way the review is also applicable to environmental impact assessments of the Gulf of Bothnia and the North Sea.
In general, the EIA was considered clear with mostly transparent methodology that was easy for the reader to follow. In broad, we contributed with a number of suggestions on changes and additions to further increase transparency as well as discussions about the method of how environmental impacts, interests and consequences are aggregated and which results that will lead to.