AquaBiota localized data sources on the occurrence and propagation of marine mammals from several countries. Data sets were prioritized and structured for transfer to the PoMM database.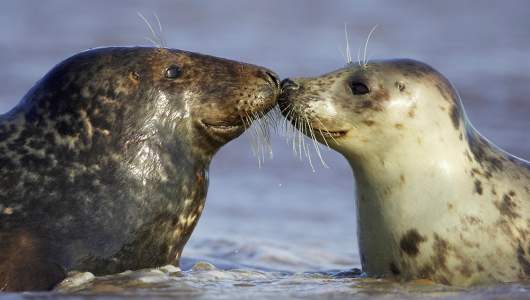 Harbour Porpoise and Grey seal, two marine mammal species encountered in the Baltic Sea.
The European Defence Agency project Protection of Marine Mammals (PoMM) was a collaboration between the Ministries of Defence for Germany, Italy, the Netherlands, Norway, Sweden and the United Kingdom. The Swedish project partner was the Swedish Defence Research Agency (FOI), on behalf of the Swedish Armed Forces and the Swedish Defence Materiel Administration (FMV). AquaBiota Water Research was, in turn, commissioned by FOI for the collection of data to the project.

The main objective of PoMM was to minimize the risk for impact on marine mammals by active sonar. This aim can be accomplished by implementing improved risk assessments prior to, and during, all marine activities, as well as through automatic detection and identification of marine mammals in the proximity of naval operations. As an aid to such assessments, the PoMM project established a comprehensive database with the relevant environmental information and data on the documented marine mammals of European waters. This database focused on seasonal abundance, distribution, population density, as well as on the acoustic signatures of the marine mammal species in the areas of operational interest for the European Navies.

AquaBiota has identified the data sources in Sweden, Finland, Estonia, Latvia, Lithuania and Poland of abundance and distribution of marine mammals. The available datasets have been rated by relevance for the aims of PoMM and, at present, AquaBiota worked with the compilation of these prioritized data for further inclusion into the PoMM database.

The PoMM project started in 2010 and run until 2013. AquaBiota's involvement lasted from 2011 to  2012.