MESMA focused on marine spatial planning and aimed to produce integrated management tools (concepts, models and guidelines) for Monitoring, Evaluation and implementation of Spatially Managed marine Areas, based on European collaboration.
MESMA was an EU-FP7 project on monitoring and evaluation of spatially managed marine areas carried out in 2009-2013. It has supplied innovative methods and integrated strategies for governments, local authorities, stakeholders, and other managerial bodies for planning and decision making at different local, national, and European scales, for sustainable development of European seas.
At the heart of the MESMA project was the MESMA framework. This framework explores in a logical way how the management initiatives in a certain area are established, so that they can be evaluated and monitored. In cases where no management plans are available, following this framework leads to recommendations for future plans.
The management methods and integrated strategies  developed within MESMA were tested and evaluated in nine case studies spread out on different management scales (local, national, European) all over Europe (see map). AquaBiota was one of the project's 21 partners and case study leaders for the Baltic Sea.
AquaBiota/NIVA conducted an evaluation of the MESMA framework's applicability on local level in Östergötland County, where we also conducted an ocean zoning analysis using the decision support tool Marxan with Zones (see picture).
Further information about MESMA can be found at the project's web site www.mesma.org.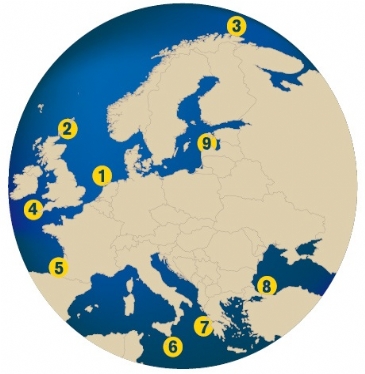 MESMA has nine case studies spread out all over Europe.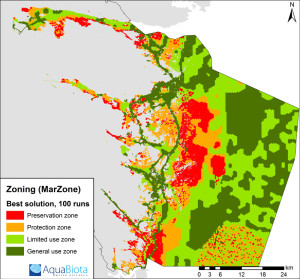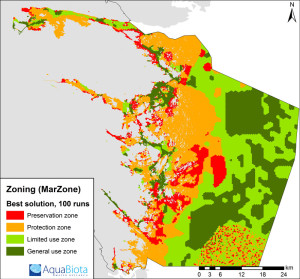 Ocean zoning results from two different scenarios using the decision support tool Marxan with Zones.