Based on consideration for conservation values and ecological representativeness the Mosaic framework provides guidance on the prioritization of spatial marine management. The framework is now out for referral. The aim of the framework is to promote a functional, ecosystem-based and adaptive approach to spatial conservation, tailored to the marine environment's characteristics and opportunities for knowledge acquisition.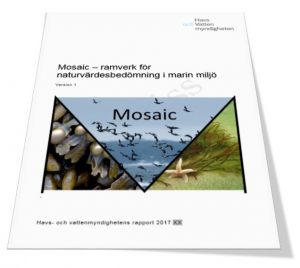 AquaBiota has developed a proposal for a framework for Sweden's work on conservation value assessment in the marine environment, on behalf of the Swedish Agency for Marine and Water Management.
The proposal has been anchored by regional consultation meetings in Umeå, Stockholm, Gothenburg, Malmö and Karlskrona, as well as a reference group consisting of representatives of the county administrative boards, the Swedish Species Information Centre and the Swedish Agency for Marine and Water Management. The framework is called Mosaic – Methods for spatial, adaptive and integrative ecosystem-based assessment of conservation values.
During the period 26 June to 31 October 2017 a first version of the framework is published on a referral basis. During the referral period, county administrative boards are testing the framework as part of the work on actions plans for regional green infrastructure. The idea is that the framework should be developed and adapted continuously as it is used.
More information is available on our project page for Mosaic. On the website of the Swedish Agency for Marine and Water Management, a full report with appendices (in Swedish) and the agencies view of the framework is found.