Inventories using underwater video (so-called dropvideo) is a method AquaBiota often use to collect information about aquatic bottom environments. In combination with our boats, which are equipped with GPS and sonar, dropvideo inventory is an effective tool for gathering point-based information on benthic habitats in large areas. The dropvideo equipment is flexible and easy to use, and the method is time and cost efficient compared to diving and snorkelling since many stations can be collected in a relatively short time, even at larger depths. The information is very useful for mapping or monitoring of species distributions. However, if the goal of the survey is to identify small species or to distinguish very similar species apart dive or snorkel inventory is often more suitable methods. In shallower stations we sometimes combine video inventory with luther rake or aquascope. Dropvideo surveys usually follow a national standard method to ensure that collected data fits national databases.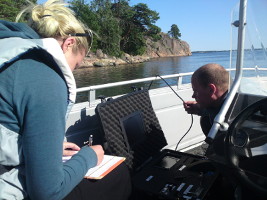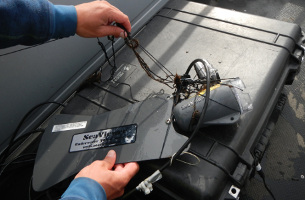 Dropvideo camera used for inventory of bottom vegetation and animals.
Since we always have coordinates for each inventory item, these can be visualized on a map using a GIS program. By linking underwater video to each section, the films can be played by simply pressing a button on the map.
During our projects in Västernorrland, Stockholm, Södermanland, Östergötland, Blekinge and Skåne the equipment have been used for the collection of information on benthic species and substrates in over 4000 locations.
Contact: Nicklas Wijkmark