Fish fauna upstream and downstream Spjutmo hydropower plant in Dalarna was investigated using aquatic eDNA and metabarcoding. The survey was made by AquaBiota on behalf of Fortum Sweden. The results from this study can be used to suggest suitable measures for lake Spjutmo as part of Sweden's undertakings regarding green infrastructure.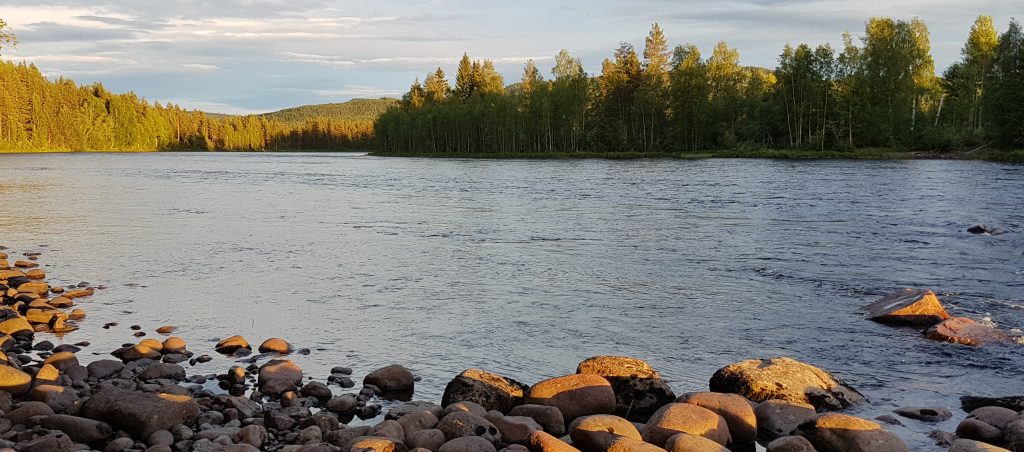 Österdalälven above lake Spjutmo.
A number of species not earlier detected with traditional methods were found. Amongst others, bream, ninespine stickleback, common rudd, bleak and billhead were identified both in the lake and downstream. Ide was also found in the waters downstream the dam.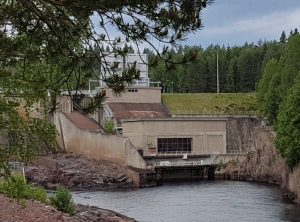 In spite of the powerplant which effectively blocks fish migration, lake Spjutmo has retained the majority of its original fish fauna. Salmon and eel migrating between sea and fresh water are extinct from the area due to dams in the river system. Unless these obstacles are reduced, salmon and eel cannot re-establish in the area regardless of management measures in lake Spjutmo.
In total, 20 fish species were found in the area, compared to 10 species found summed over 28 years of electrofishing. In an interview based inventory in 1996, 12 species were reported, of which two (eel and crucian carp) are most likely no longer present.
Analysis of eDNA could potentially be used as an efficient, non-destructive tool for sampling of fish fauna composition over vast geographical areas. Further, the method is sensitive enough to detect newly introduced species, rare species or species that escape traditional sampling methods. Since information on fish community composition by hydropower plants is an important aspect for decisions on measures, we hereby propose eDNA as a suitable survey method.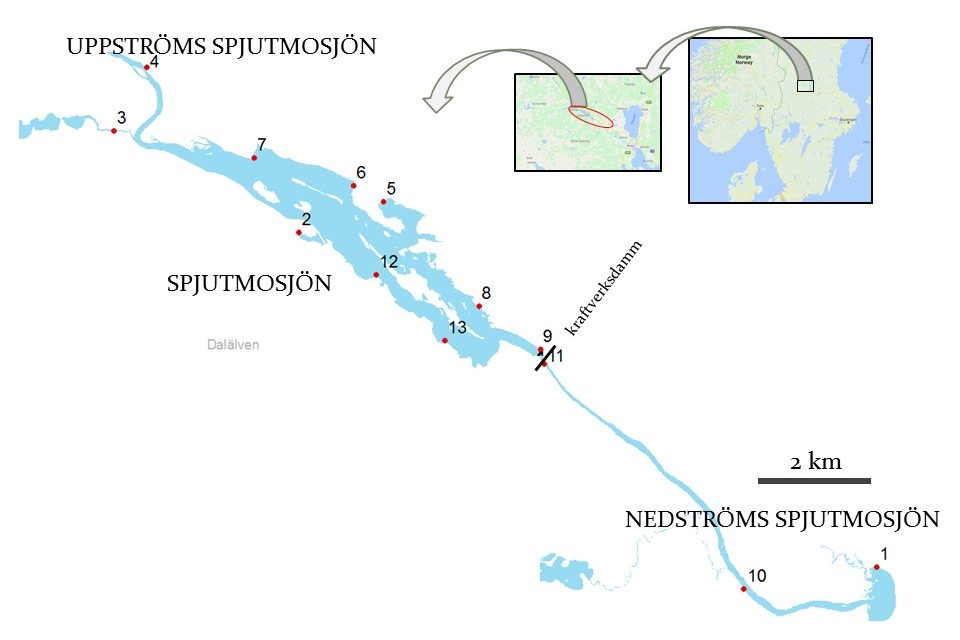 Map of sampling stations by lake Spjutmo, northwest of lake Siljan.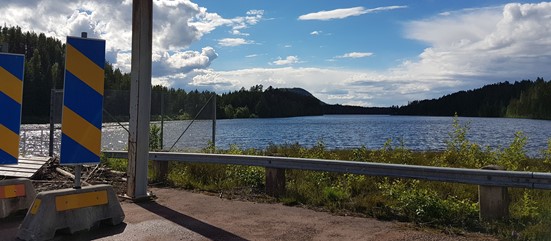 Lake Spjutmo above the hydropower plant.
The project was mainly financed by Fortum Sweden AB. Part of the methods development was financed by EU COST DNAqua-Net STSM (Short Term Scientific Mission) to Micaela Hellström at AquaBiota Solutions Sweden  in collaboration with Univetsity of Hull UK, Nature Metrics  UK, and INBO in Belgium. DNA was extracted as an exclusive collaboration with MoRe Research AB, Sweden.
Report (in Swedish):
Hellström, M. & Spens, J. 2017: eDNA – Fiskinventering vid Spjutmo kraftverk. AquaBiota Report 2017:1. 31 sid.