At the request of the Swedish Agency for Marine and Water Management, AquaBiota has participated in the work of developing Mosaic.
Mosaic is a tool for identifying valuable marine areas of particular importance for biodiversity and ecosystem services in viable and ecologically representative networks. The purpose of the tool is to contribute to an ecosystem-based, adaptive, and functional perspective when working with spatial conservation. By highlighting and mapping marine green infrastructure, Mosaic allows a basis for spatial management, such as sea and coastal zone, protection of areas and other matters that need to be prioritized spatially, i.e. restoration and management of the sea and fish populations. The intention is for the tool to be used to identify and assess valuable areas by, as unbiased as possible, analyze different biotic ecosystem components such as species, populations, habitats, and groups of organisms in a landscape perspective. With a common basis to work from, the work can be coordinated, and the proper measure and management can be implemented in the right place.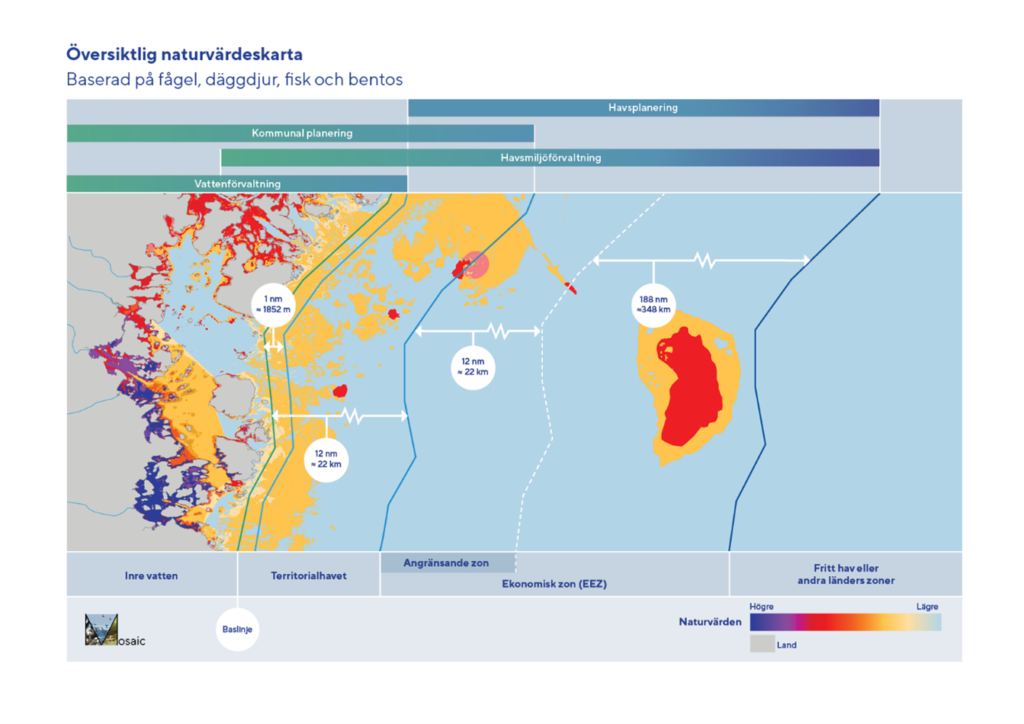 Mosaic consist of two parts, an initial phase and implemental phase. In the initial phase, coordinated by The Swedish Agency for Marine and Water Management, a considerable number of experts have collected and synthesized the best available knowledge to make general, non-site-specific, assessments. The assessments can thereafter be used for landscape analyses and site-specific assessments in the second implemental phase. In other words, the assessments in the initial phase focus on general patterns, not spatial variation. This makes it easier to follow the ecosystems changes over time and include new knowledge in the recurring revisions. Recommendations and decisions shall also be made in this phase in preparations for the next phase. In the implemental phase the implemental party shall use site-specific field data consisting of biotic ecosystem components or evaluations of natural values. Primary focus is to identify the ecosystems spatial variations.
Mosaic is based on internationally accepted criteria set by the UN convention on biodiversity (CBD 2008). The criteria have been included in the different parts and steps of the tool to reach the set-up goals and practical rules of procedure. Criteria for direct ecosystem services has also been included for Mosaic to highlight green infrastructure as abasis for different types of management.
More information (in Swedish) at the Swedish Agency for Marine and Water Management.
Hogfors, H., Fyhr, F. G., & Nyström Sandman, A. (2020). Mosaic–verktyg för ekosystembaserad rumslig förvaltning av marina naturvärden: Version 1.